Finally an indexing tool that
really works

on Google!
Check out all of our reviews and try it out for yourself.
It is on average 80% of indexed pages in 24 hours
In addition, the indexing is re-credited if your URL is not indexed within 10 days .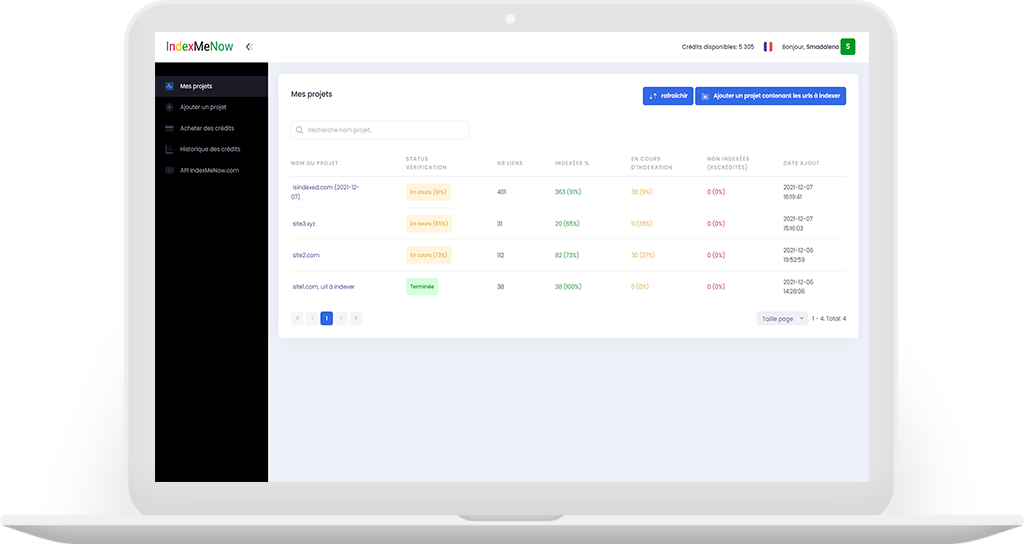 How does indexmenow work?
Our indexing system is very simple and reliable. Become an indexing expert in 3 clicks.
Add your url (s)
Create a project and add your URL (s). You can create an unlimited number of projects. Add the urls to be indexed in each project.
Send for indexing
Our system takes care of automatically processing your indexation requests. The process makes several indexing attempts.
Indexing verification
We check hourly and free of charge if your URL (s) are indexed . If so, you have the Google + meta "title" & "description " HTML backup.
Recredited
In our process, we make several attempts with various methods. If the url does not index after 10 days, you will be credited again .
 Indexing statistics generally observed on average:
In 24 hours: 80% of URLs are indexed,
After 24h: + 10% of URLs are indexed,
After 48 hours: + 5% of URLs are indexed,
+5% URLs are indexed for up to 10 days.
After 10 days , if the URLs (S) you added to indexmenow.com are detected as unindexed ,
you will be automatically credited back to 100% .
Consult in detail the statistics and results of your project

INDEXED URL with HTML DUMPs and META tags
Find the GOOGLE HTML DUMP for 30 days as proof. You also have the TITLE and DESCRIPTION meta tags saved without time limits. You can thus export your results.

NON-INDEXED URL
You have the details of unindexed URLs. These URLs are re-credited to 100%. Check that your URLs are indexable.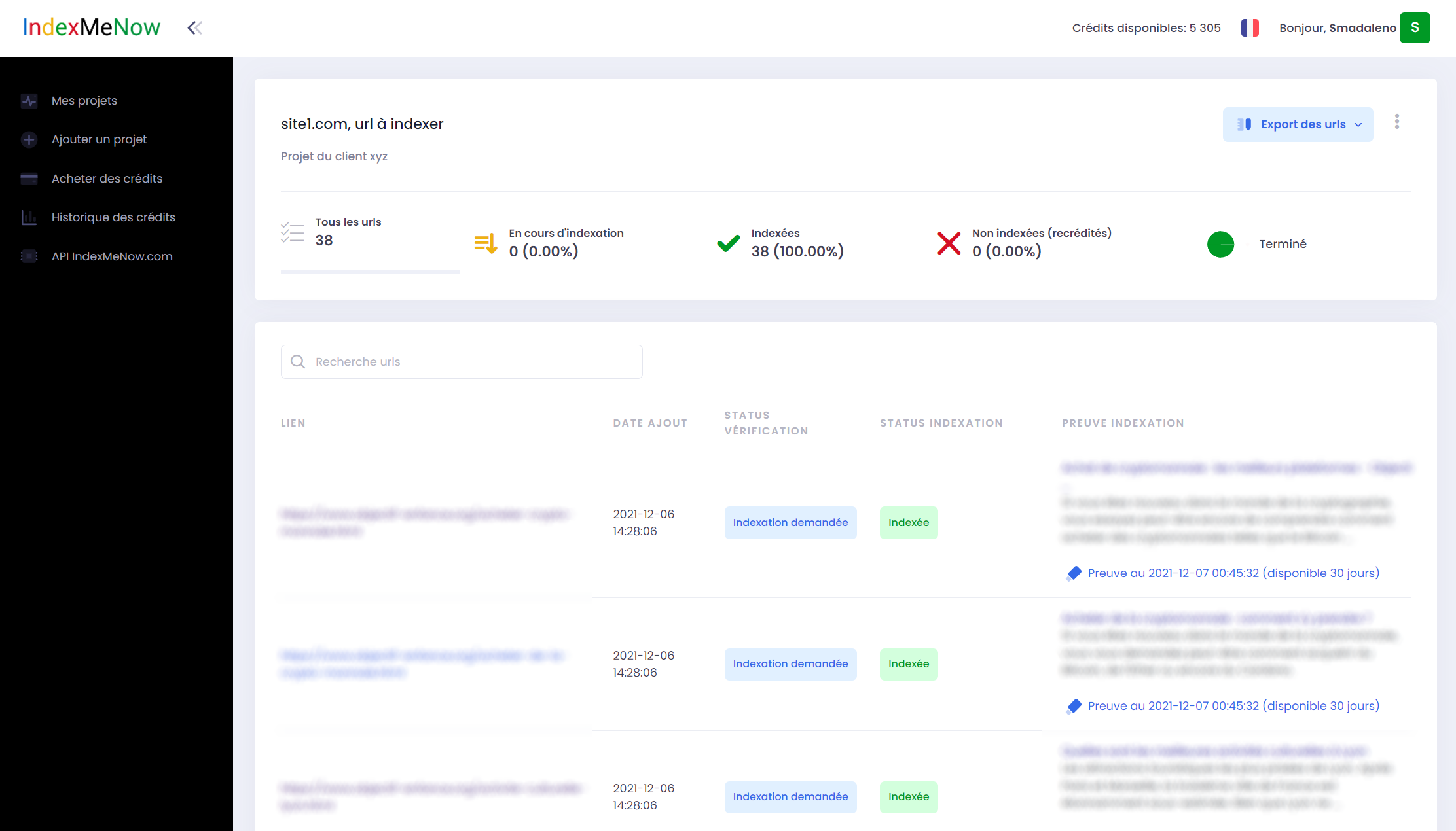 Here are 4 major points that explain why we believe that our service is the best service on the market today.

Finally an indexing service that really works . Create your indexing projects in 1 minute.

You will find a integrated index checker and at no extra cost for check the indexing of URLs.

80% urls are indexed in 24h and can be positioned on long keywords dragged.

If your URL is unindexed after 10 days. It is credited back to 100% in your accounting balance.
Stop wasting money on inefficient indexing services.
Results observed on average:
80% of your URLS indexed in 24 hours.
Indexed or recredited.
You only spend credits if your URL has been indexed .



60 credits
1 credit ≈ $0,82
1 credit = 1 indexed URL
Check the automatic indexing
Recredited after 10 days if the url is not indexed
History of treatments with results
No monthly subscription
Your credits do not expire
Free API only on isindexed.com
Price excl.
600 credits
1 credit ≈ $0,66
1 credit = 1 indexed URL
Check the automatic indexing
Recredited after 10 days if the url is not indexed
History of treatments with results
No monthly subscription
Your credits do not expire
Free API on all your projects
Price excl.
2000 credits
1 credit ≈ $0,49
1 credit = 1 indexed URL
Check the automatic indexing
Recredited after 10 days if the url is not indexed
History of treatments with results
No monthly subscription
Your credits do not expire
Free API on all your projects
Price excl.
Answers to questions from our users
1. What is a URL?  
This is the address of a web page that appears in the browser's address bar. This URL must to start necessarily by "http://" or "https://" and be accessible. 
The URL you want to index or update on indexmenow.com can be:
a page or an article from one of your sites,

a page or an article of a site that does not belong to you,

a backlink,

a profile page, a social network…
2. What is the point of having a URL indexed on Google? 
An indexed URL allows you to appear and be positioned on different keywords on the Google search engine.
An internal study of several indexing audits after a crawl allowed us to observe that on average 37% of the URLs of a site of more than 100 pages are not indexed. These are therefore useless pages that can not be found on Google.
To know if your URLs are indexed or not , you can consult the FAQ 3 . which explains the method.
Indexing the pages therefore allows you to be positioned on Google in a few hours with recent pages, or with old pages that are not or no longer indexed .
The indexmenow.com tool also allows you to index backlinks, because an unindexed backlink has no value .
3. How do I know if a URL has been indexed or not?
Indexmenow.com has a feature that automatically checks indexes several times a day after an indexing request to Google.
We use the API of our service isindexed.com for this . This is the service specializing in indexing verification that performs several tests:
and checks on

other datacenters

(as with the seo-hero.ninja tool).
4. indexmenow.com detects my url as indexed but when I do the test on my browser, the url is not indexed. Why ?
indexmenow.com provides you with proof by displaying the Snippet of the TITLE + DESCRIPTION meta tags of what Google displayed once your URL was detected as indexed.
You will also find an HTML backup of the Google result page showing your URL as indexed.
However, during your checks, you may find that a URL is not indexed with the command site: or inurl: followed by your URL .
In this case, there can be two explanations :
In the majority of cases,

your URL is not yet indexed on all Google datacenters . These variations can last 48 hours on average. You can check the results on several datacenters on the site https://seo-hero.ninja .
Otherwise, it's pretty rare, but your

URL has been de-indexed by Google.

The

reasons can be various but generally it is a lack of quality.

To find out more about the causes of de-indexation, you can

go to the FAQ 24

.
5. Are indexing checks in
indexmenow.com
chargeable?
No , the indexing checks in indexmenow.com of your URLs are included in the indexing cost and you only pay if our system has detected your URL as being indexed.
6. How do you refund each unindexed URL?
Each URL not indexed after 10 days is automatically refunded in your total credits available on your indexmenow.com account.
You will find the supporting documents, the histories as well as the accounting balance at this address: https://tool.indexmenow.com/project/checkhistory .
7. Can IndexMeNow force an already indexed page to be indexed for an update?
Yes, this allows you to quickly update a URL and quickly see the display changes after changing the META DESCRIPTION or TITLE tags.
You can also sometimes see a temporary boost in positions by adding already indexed URLs to indexmenow.com.
Updating a page can in some cases gain a few positions that remain sustainable over time . Test for yourself as this varies depending on the type of site.
8. If I add a page on indexmenow.com that is already indexed, am I charged?
Yes , because the indexing verification is carried out after the sending for indexing. In addition, as explained in the previous point, some users add already indexed pages to get a quick update and refresh on Google .
If you want to index only unindexed urls , we therefore recommend that you first check the indexing with isindexed.com which is the service specializing in indexing checks before sending indexing with indexmenow.com .
You can also test indexing yourself using the site: or inurl: commands followed by your URL. 
9. Is there a subscription or credit expiration date?
No , there is no subscription , you pay for what you use and your credits do not expire .
You only pay if the url has been detected as indexed by our automatic verification system.
10. Do you have an API to index or update pages on Google?
Yes, indexmenow.com has an API. This API allows you to use and develop applications using the functions of the indexmenow.com service
All the actions you perform on the online tool can be created with the API. 
Your API key as well as full documentation can be found at this address: https://tool.indexmenow.com/docapi
For example, you will find the following functions: 
11. How exactly do you index a URL?
IndexMeNow utilise aujourd'hui un combo de 3 méthodes d'indexations.
Depuis fin février, nous avons réalisé des centaines de tests sur plusieurs jours en testant et analysant plusieurs méthodes d'indexations ainsi que différentes variantes. Avec ces résultats, nous avons modifié le processus d'indexation pour vous proposer la solution la plus efficace que la V1.
Comme vous le savez probablement, il existe des dizaines de méthodes pour faciliter les indexations : Google Search console, redirection Google Bot, Google URL Inspection, API Google in Google Cloud Platform, Google Slide, Description YouTube, Backlinks, Applications Google sur Android, Ajout de sites en Favoris sur Chrome, visites par Google Chrome, Google Slides, Liens dans Gmail, Création campagne GoogleAds, Google Maps, Google my business, News, Outils d'accessibilité Android, Speech Services…
Ainsi, il existe plusieurs méthodes d'indexation, mais aujourd'hui, l'utilisation d'une seule méthode est rarement efficace pour une indexation rapide. 
Nous avons constaté qu'aujourd'hui pour obtenir une indexation, Google aurait besoin d'avoir connaissance de l'URL par plusieurs méthodes et souvent de façon répétée pour avant de valider une indexation.
C'est pour cela, que d'après nos différents tests, avec la sortie de la V2, nous appliquons dans notre processus un combo de 3 méthodes d'indexation qui sont utilisées conjointement pour donner de meilleurs résultats.
C'est 3 méthodes qui sont basées sur des solutions Google et n'utilisent aucun backlink indexé et aucun envoi de trafic (excepté Google).
Dans le cas où vous avez déjà utilisé des demandes d'indexations (et dont les URLs n'ont pas été indexée) avec par exemple  :
la V1 d'indexmenow (qui ont été 100% remboursé si non indexée)

API Google dans Google Cloud Platform

Ou autre service / méthode d'indexation
Nous vous invitons à relancer dans notre nouvelle version les urls qui n'ont pas été indexées. Vous aurez probablement de bonnes surprises avec cette nouvelle version.
Et ne vous inquiétez pas ! Si vos urls ne sont pas indexées, elles seront remboursées à 100% sur vos crédits.
12. Did you get any harmful or dangerous effects for SEO? 
No, on the contrary, our solution is beneficial because it allows you to position in 24 hours on new keywords and index recalcitrant pages!
Unlike other indexing solutions.  Nous n'allons pas publier sur les réseaux sociaux, spammer des sites en publique, des forums, des commentaires, des livres d'or… Our indexing methodology is in-house.
So you won't find any trace of URLs added in indexmenow projects anywhere on the web. No traces on tools like Ahref, Semrush, Sistrix, MajesticSEO, Babbar… or any other tool. Be reassured.
Indexmenow simply allows you to ask Google to index or update your URL thanks to our specific methodology.
What's more, if our system was harmful (which it is not), that would mean we could freely cause negative results on any site. It is therefore not possible.
13. Can a URL or a site that I have added to indexmenow be penalized because of indexing? 
NOTwe don't have never heard of a penalty for forced indexing. It is not by indexing content with indexmenow that you will be penalized because it isa normal process.
But beware: if you force the mass indexing of poor quality content, we can imagine that one day Google could penalize you . However, this consequence will not be because of the indexmenow.com service , but because of your site and your content because Google will have judged that they were not of sufficient quality .
14. Do you recommend limits on the number of indexes per day? 
We don't have any specific recommendations, however, for a new or recent site we recommend indexing in waves of a few hundred URLs rather than sending them all at once.
15. Do you have an opinion for the indexing of URLs corresponding to backlinks?
For some non-indexed backlinks, we can imagine that Google judged that they were not qualitative enough or that it de-indexed them .
The fact of sending for example several hundred backlinks in poor quality indexing could be likened to a blast of backlinks on the part of google. 
We recommend that you send for indexing only the backlinks that you consider to be of quality or to carry out the indexing gradually .
16. Do you have the power to index unlimited?
Unfortunately no (that would be too good considering the impressive statistics that we obtain with gains of new keywords or positions). 
We have indexing limits as well as a cost for each URL sent for indexing in our various indexing and verification stages .
Generally, each indexing request is processed on time , however, a delay may occur depending on the volume in the queue .
In this case, you will be notified directly in your back office of any delay in processing. 
17. We notice on the Google Search Console an increase in impressions when we submit the urls on indexmenow, is this normal?
Yes, it's normal . This is what happens when you force indexes and they index themselves . These URLs appear after indexing on different Google results.
It's a normal process that causes instant rankings on certain keywords and often amplified with a freshness bonus. This freshness bonus is generally temporary and you will find a normal position depending on the trust / content of your site.
18. Why was my URL not indexed by indexmenow.com?
Even though indexmenow.com has one of the best success rates on the market, it happens in rare cases that it fails to index a page.
here is 2 reasons who can explain why your url was not indexed :
1. Non-indexable page 
HTTP code which is not in status 200 but which for example in 404, 500, 302, 301, 403….

noindex attribute in a META tag, HTTP header or robots.txt file

Canonical META tag that is different from the url you want to index
To quickly check if your url is indexable and if google is accessing your page, you can test the Google tool here: https://search.google.com/test/mobile-friendly
2. Algorithmic refusal by google 
Low quality or insufficient content

Duplicate, similar or spintax content

Top business type keywords on a site with little authority (review, cheap, best…)

Lack of media

Content too old and no longer relevant

Lack of global domain authority…
These algorithmic reasons are difficult to determine exactly. 
However, we noticed that these algorithmic refusals can be corrected by simply modifying the META TITLE tag. As well, this changes the last modified date of the page and Google favors indexing when the content is fresh. 
19. Do you need access to a Google Search Console or a Google API Key?
Unlike other indexing methods, indexmenow.com does not need access to your Google Search Console or your API key. 
You just have to add URLs (pages or backlinks) and indexmenow.com will index these URLs.
21. Do you have an affiliate program?
Yes, we have an affiliate program. 
You can consult the program as well as the conditions here : https://indexmenow.com/affiliation/
22. Do you have a Chrome plugin? Where to download it?
Yes, we have a Chrome plugin which allows you in 2 clicks send pages for indexing directly from the Chrome browser. 
the Chrome plugin can be found at this address : https://chrome.google.com/webstore/detail/indexmenow/nfckflgabnpbmdefidjjhoefeackkgdl?hl=fr
All you have to do is add your API key to the first installation which can be found at this address https://tool.indexmenow.com/docapi and then send your URLs for indexing easily.
This plugin then allows you, in two clicks, to retrieve the current URL on the Chrome browser or another URL to copy and send it for indexing in the project with the name of your choice.
23. Do you have a WordPress plugin? Where to download it?
Yes, we have a WordPress plugin. This plugin can be found at: https://indexmenow.com/indexmenow-plugin-wordpress.zip
This plugin allows you to boost the indexing of your WordPress site with these two options: 
Manual: Send or resend an article or a page for indexing

Automatic: Automatic sending indexing after publication.
24. My site is filtered by google because when I do 'site:' I only have 4 indexed results displayed. Does your service fix this? 
No, this filter that some SEOs call " 4 indexed pages » is a google filter which generally intervenes on expired sites and/or PBN type sites. The exact cause of this filter is still unclear but it usually affects PBNs (private blog network).
Indexmenow.com does not allow you to exit this filter . However, even though some pages may get indexed after using indexmenow.com, they end up de-indexing within hours or days on these Google filtered sites.
25. Can auto-generated, spinned, similar or duplicate content be indexed? 
Yes, it works perfectly fine, but it's at your own risk. because if Google's algorithm detects it as SPAM or low quality content, you have a risk of being penalized or filtered. 
As you probably know, Google is looking for quality content. 
26. Can URLs be de-indexed after indexing? 
Yes, it happens but it's rare. The reasons are usually that Google rejects the content of the page. This varies for each type of site.
The reasons can be many :
Low quality or insufficient content

Duplicate, similar or spintax content

Top business-type keywords on a site with little authority (review, cheap, best…)

Lack of media, single photos, video…

Old and outdated content

Lack of global domain authority…
Tip: We noticed that modifying the title tag to update your content made it possible to no longer unindex certain URLs. 
Indeed, the fact that the content becomes "fresh and recently updated" allows Google to keep the page indexed even if it had de-indexed it in the past thanks to its freshness.
However, keep in mind that this is a time-consuming method because automatically there was an element that Google did not like on your page. 
We therefore invite you to verify the completeness of the quality of the text or other pages of your site.
27. Are URLs deindexed after indexing by indexmenow.com automatically refunded?
No, de-indexed url are not automatically reimbursed.
The indexation is rare and affects only pages where Google found that the content of the page was not acceptable because of a lack of quality.
Deindexation represents according to our internal statistics about 2% of indexed pages . To learn more about the reasons for deindexations, see FAQ 26 .
However, we have had cases where some users have attempted indexing on filtered sites (4 pages indexed with site:) or penalized by Google. This systematically causes deindexations.
In this case, you can make a request to support and we will manually refund the URLs that you have found to be deindexed .
Use the indexmenow API at isindexed.com
isindexed.com is an indexing checker integrating a management by project and historized.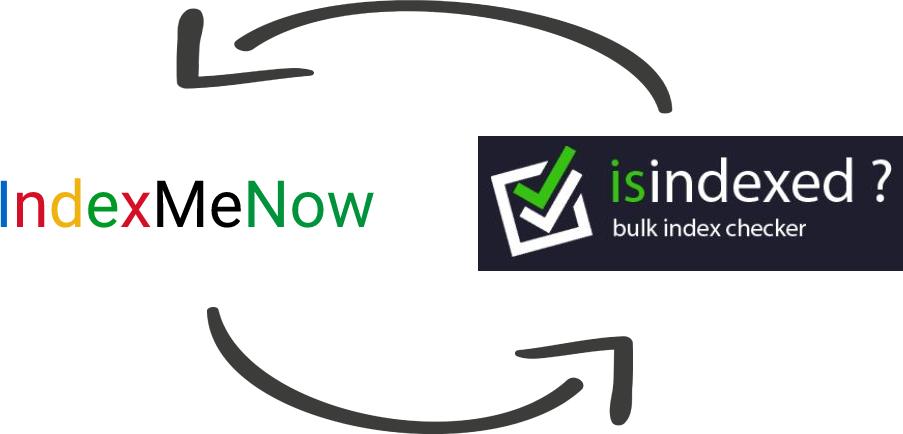 Our complementary and optional service is perfect for checking if URLs are indexed or not before sending for indexing.
For a perfect project management and to know exactly which URLs are not indexed, we recommend that you use our complementary service isindexed.com.
It will allow you to manage and have a vision with historical indexing of your projects.
To increase the power of isindexed.com, you have the option to add your indexmenow.com API key to isindexed.com.
This will allow you to send index requests directly from the isindexed.com backoffice!
Consult the various opinions and feedback from our users on twitter.